Manufacturing Index
Machining
Saws
Introduction
A saw is a machine designed to use a serrated-tooth blade to cut metal or other material. Comes in a wide variety of styles, but takes one of four basic forms:
Hacksaw (a simple, rugged machine that uses a reciprocating motion to part metal or other material);
Cold or circular saw (powers a circular blade that cuts structural materials);
Bandsaw (runs an endless band; the two basic types are cutoff and contour Band machines, which cut intricate contours and shapes);
Abrasive cutoff saw (similar in appearance to the cold saw, but uses an abrasive disc that rotates at high speeds rather than a blade with serrated teeth).
Power Hacksaw
Power hacksaws have a rigid bow frame supporting a horizonal straight saw blade. They operate in a reciprocating motion. On the cutting stroke the blade teeth are forced into the metal, being cut, using gravity or by hydraulic pressure. On the return stroke the blade is unloaded/ lifted to reduce wear on the blade.

Power saws generally have a chip tray to retain the metal waste and to catch the lubricating fluid. Saws can be dry cutting or lubricated. Lubricated saws can cut at a higher speed.

The cutting speeds are expressed in cutting strokes per minute, The cutting speeds can range from 50 to 150 cutting strokes per minute.

The hacksaws are sized for standard blade lengths from 300mm to 800mm. The relevant standard blade thicknesses range from 0,8mm to 2,5mm and the bladewidth range from 16mm to 65mm.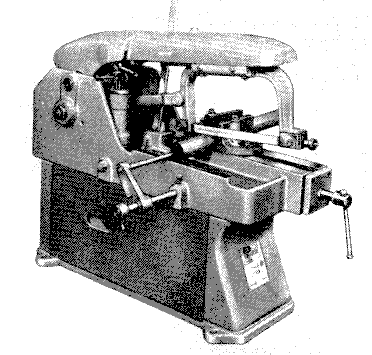 ---
Cold /Circular Saw
Cold saw are low speed circular saws specially made for cutting metal. They range in size from hand operated models with 200mm blades to large machines with blade diameters of over 900mm.

This type of saw is often used for cutting structural sections such as universal columns and beams. Horizontal heavy duty machines can cut bars of up to 250mm thick.

The blade width relates to the kerf they make. The blade width varies as the diameter and the width varies from 2mm to 8mm. The larger blades (over 400mm) have inserted teeth made from high-speed steel. Teeth pitches vary from fine (8mm) to coarse (16mm). The fine blades are used for cutting thin walled pipes and tubes..

Note: The kerf is the width of the slot in the metal produced by the blade.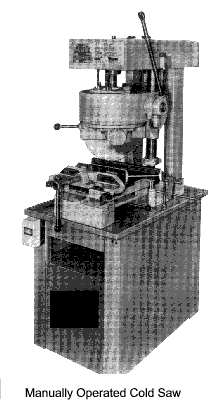 ---
Bandsaw
Vertical bandsaws may be used for making straight cuts, angular cuts or curved line cuts. These saws are often referred as contouring machines. The saw table can be rotated at an angle (up to 45o for making angular cuts.

The band saw speed can be varied over a range and is varied for optimum cutting against the following variables
The kind of material being cut
The hardness of the material
The thickness of the material
Cutting wet (lubricated) or dry
Slower speed are used for harder, thicker when not lubricated...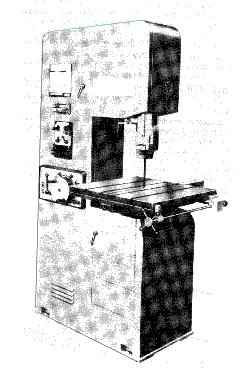 ---
Abrasive Cut-Off Saw
Abrasive cut-off saws use abrasive discs for stock cut-off. They are either manual or power fed. They can have fixed in-out motion or can operate with a reciprocating head. Repiprocating saws are best for thick tough metals.

Machine sizes vary for hand operated bench saws with 200mm dia disc blades to large machines with 500mm dia disc blades.

This type of saw is most useful for cutting very tough hard material that cannot easily be cut with other types of saw blades..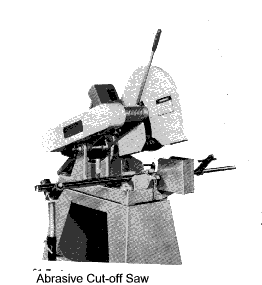 Manufacturing Index
Machining