Manufacturing Index
Machining
Turning/ Lathes etc
Introduction
The lathe is available in many forms as listed below. All lathes are based upon the centre lathe as shown in the figure below;
The basic operations that can be carried out on lathes include:-Turning, Facing, Boring, Drilling, Reaming, Counterboring, Countersinking, Threading, Knurling and Parting.

---
Types of Lathes>
Centre lathes

Engine lathes,
Bench lathes,
Toolroom lathes,
Speed lathes,
Duplicating lathes,
Production lathes,
Vertical lathes,
Capstan/Turret lathes
Automatic lathes
---
Center Lathes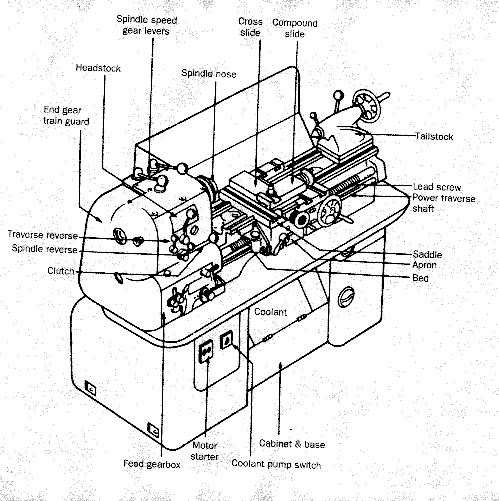 All of the important features of the lathe are shown on the above figure.
The headstock spindle which is hollow to allow bar stock to be fed through is generally provided with a special male thread to allow chucks etc. to be easily fitted and removed. Some of the different work holding units which can be fitted onto the headstock spindle are shown below.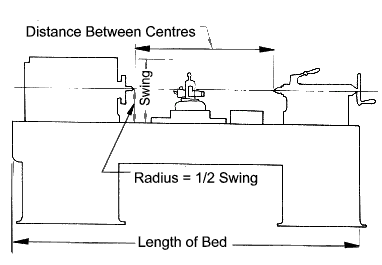 Important Centre Lathe Dimensions
---
Work Holding Devices

---
Cutting Tool Terms
Face ..top surface of cutting tool
Cutting Edge ..The part of the cutting tool which actually cuts the metal comprises the side cutting edge and the end cutting edge
Flank ..The side of the cutting tool below the side cutting edge
Nose ..Point to the tool
Nose Radius ..The radius of the nose - 0,4mm for heavy cuts ,0,4-1,5mm for finishing cuts
Nose Angle ..Plan angle between the side cutting edge and the end cutting edge
Side Cutting Edge angle ..Angle between the side cutting edge and the line of the shank side
End cutting edge angle ..Angle between the end cutting edge and a line drawn 90o to the shank side
Side Relief/clearance Angle ..The angle between the tool flank and the original side of the tool
End Relief/clearance Angle ..The angle between the end of tool and a line drawn 90o to the Centre line of the Lathe
Side Rake ..Angle between the tool face and the horizontal Plane parallel to the axis of the lathe
Back Rake Rake ..Angle between the tool face and the horizontal Plane 90o to the axis of the lathe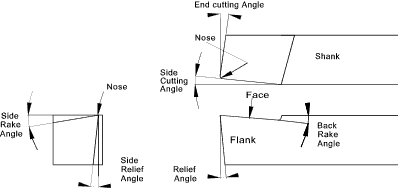 ---
Cutting Speeds
The cutting speed is the speed at which the work surface passes the cutting tool. This is mainly dependent on the material being turned and the cutting tool material. The table below indicates some approximate cutting speed for turning on a lathe.

For information on cutting materials refer Cutting Materials. For information on cutting fluids refer Cutting Fluids

Material
Cutting Tool
Material
Rough
Cut
Finishing
Cut
m/min
m/min
Free Cutting Steel
H.S.S
35
90
Cast Alloy
75
145
Carbide
125
205
Low Carbon Steel
H.S.S
31
80
Cast Alloy
65
130
Carbide
106
190
Medium Carbon Steel;
H.S.S
30
69
Cast Alloy
58
107
Carbide;
92
152
High Carbon Steel
H.S.S
24
61
Cast Alloy
53
91
Carbide
76
137
Cast Iron Grey
H.S.S
24
41
Cast alloy
43
76
Carbide
69
125
Brass / Bronze
Free Cutting
H.S.S
53
110
Cast Alloy
105
170
Carbide
175
275
Aluminium
H.S.S
40
90
Cast Alloy
55
115
Carbide
75
185
Plastics
H.S.S
30
75
Cast Alloy
45
115
Carbide
60
150
| | |
| --- | --- |
| Links Providing information on Turning | |
Manufacturing Index
Machining